Every pearl is different in size, color, shape, and glow. A living creature forms pearls. One knows these pearls as one of the fascinating gemstones out there, used to make several types of jewelry. The beauty and attractiveness of pearls are everlasting and well renowned across the world.
When you purchase a pearl for the first time, you can get confused in the market, where you will see a lot of different types of them there within different price ranges. You can see prices start from 5$ – 1500$ for a single pearl!!

It depends on your budget and which type of pearl necklace you want. In this article, you will find out about the difference between the types of pearls.
Also, you will know if the pearls are created naturally or human-made. We have covered all the top 9 pearl types below, which will help you understand the primary difference in each type and clear your head before choosing one according to your needs.

Saltwater Pearls
As the name suggests, this type of pearl can be found in oysters and mussels from oceans, bays, and seas. Saltwater pearls are more expensive than freshwater pearls in general. You can find freshwater pearls in rivers, lakes, ponds, and mollusks.
Freshwater Pearls
One of the first lakes to culture freshwater pearls is Biwa lake in Japan, which is also among the country's largest lakes. The lake is the resource of Biwa luster, which is famous for its quality surface and good shine. As they don't have any nucleus, these pearls often come in unusual shapes. Biwa pearls include several color schemes, including creamy white, white rose, salmon-orange, dark wine red, and violet. Even though some freshwater pearls originate from China, they are still known as Biwa Pearls to attract customers and demand high prices.

Akoya Pearls
Akoya pearls are a unique type of pearls. Mikimoto brand made these pearls famous around the world. People with a specific taste in pearls prefer them because of their perfectly round shape, long-lasting shine, and richness. Naturally, these pearls come in the skin tone of blue and range with the primary body color of light pink, white, or pale yellow. If you see any pearl with a size of 7mm, it most probably originated from Japan. Akoya pearls of smaller sizes come from Sri Lanka, Vietnam, Korea, Hongkong, and China. Pearl Oyster families Pinctada and Pteris are the primary resources of the finest quality Akoya pearls. You can get the finest quality Japanese Akoya Pearls at Cultured Pearl Starter Necklaces.

South Sea and Tahitian Pearls
Pinctada Maxima is the leading resource of these pearls, and these pearls take more time to grow than Akoya pearls. These pearls come in the colors white, green, rose, blue-grey, golden, and pale yellow. Light-colored South Sea pearls are less intense than dark pearls. The most popular South Sea pearls are vibrant and golden-colored ones. The price of South Sea pearls depends on the size. These are the largest cultured pearl among all the other types of pearls known to man. The rarest shape of South Sea pearls is the round ones, which are more expensive than the different shapes of these pearls for apparent reasons. Pinctada margaritifera is the only natural resource of the Dark Tahitian pearl. There are no natural black colors available. Except for form this black-colored pearl, all other pearls are dyed black. Dark Tahitian pearls also come in Dark Grey and Silver colors with pink and green tones. Because of their color, they almost giveaway a metallic look.

Keshi Pearls
These tiny pearls are formed as a result of the cultivation of large nucleated pearls in Akoya oysters. In Japanese, the term Keshi means "poppy", referring to these pearls as tiny seed pearls. At the harvesting time of Akoya Pearls, these pearls can be found in Kobe, Japan. As they are natural pearls, their shining occurs without any nucleus present in them. The color of these pearls is the same as that of Akoya pearls. The luster of Keshi Pearls is very attractive, and their color scheme is unusual to that of other pearls like eggplant, vivid purple with the tone of greens, bronze and peacock color with striking green tone, and green with the overtone of purple. Keshi pearls are also bought in India and China for medical purposes.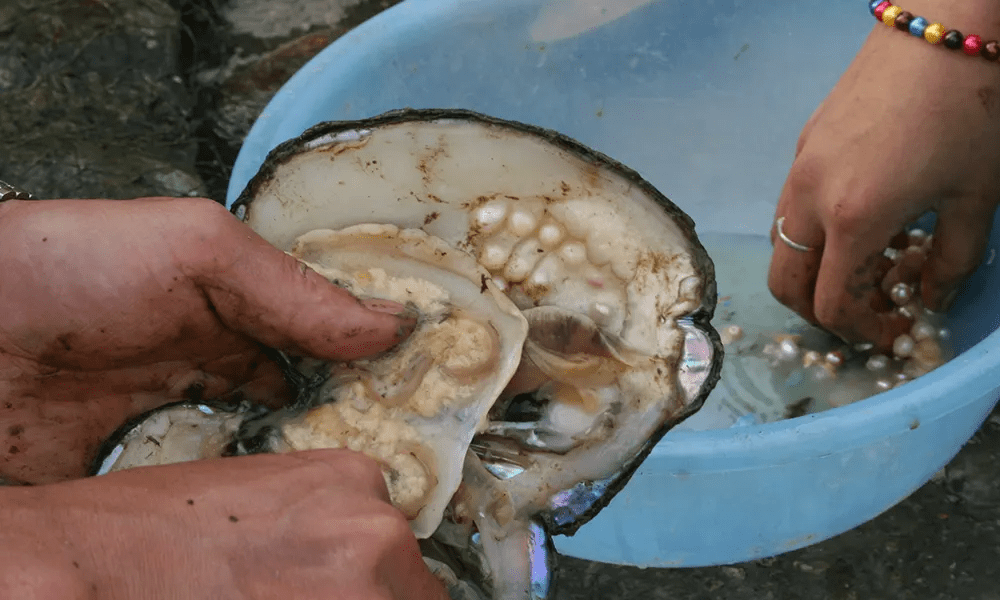 Chinese Freshwater Pearls
These are also among the well-known types of pearls. The presence of a nucleus in these pearls makes them unique. Mussels have over 350 species in lakes, rivers, and streams. Because of water pollution and overpopulation around the banks of rivers, lakes, and streams, some of these species no longer exist. Still, China can culture these freshwater pearls through the pearl mussel Hyriopsis cumingii. There are several different colors available for Chinese freshwater pearls, among which rose, white, green-white, green rose, salmon-orange, wine red, and violet are the popular ones.

Mabe Pearls
Natural resources do not fully obtain mabe pearls. It can be cultured by sticking a half-bead nucleus against the inner shell. When there is a covering of nacre on the hemisphere, these pearls are taken out. The next step is to remove the nucleus and fill that part of the pearl. The last step is to back it with the mother-of-pearl. The fact that these pearls are not entirely natural makes them less durable. The coating of nacre on these pearls is removed, damaged, or loses color over time.

Blister Pearls
Blister pearls are attached to the inner portion of the shell rather than just lurking within the mantle. The uniqueness of this pearl is that it has the same nacre as its shell, and it doesn't have any pearl coating on it. Blister pearls are flat from the back.

Seed Pearls
They are usually the smallest pearls in circulation. These are smaller-sized pearls with an average size of 2mm.
Note: At JO&LYD, we specialize in cultured freshwater pearls since they are thicker than culture saltwater pearls and more affordable.